Argentina is a country of South America stretching about 3701 kms from Bolivia to the southern tip of Tierra del Fuego, an island it shares with Chile. European conquests in early 1500s, and in 1776 Spain established a viceroyalty that included present - day countries Argentina, Bolivia, Chilean Patagonia, Malvinais Islands, Paraguay, sections of Brazil and Uruguay.
Following the British invasions of Buenos Aires of 1806 and 1807, which became a catalyst for the Revolution of 25th May 1810 and the Declaration of Independence from Spain in 9th July 1816. Buenos Aires is the capital city and the largest city in Argentina.
Scanned material in PDF

'British Fiasco at Buenos Aires' (9.4MB). Acknowledgement - Many thanks to Dr Ernest Andrade and his family. Reprinted with permission. Copyright Military History Magazine.
Scanned material in PDF

"Southern Cross Travellers" (173kbs) Chapter 23. Argentina and Antartica (includes Malvinas Islands). Copyright Ricardo Borowiec and Argentina House
| | |
| --- | --- |
| Para volver, por favor, utilice el Atrás del navegador | |
| | |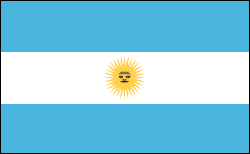 ---
About Us | Argentina House Publishers | Commercial | Contact Us | Links of Interest | Home